Odysseus Returns Chryseis to Her Father
Presented as part of
Dr. Bob's "Homer Tonight!"
Robert Russ
5 Pickwick Place
Greensboro, NC 27407
homertonight@hotmail.com
---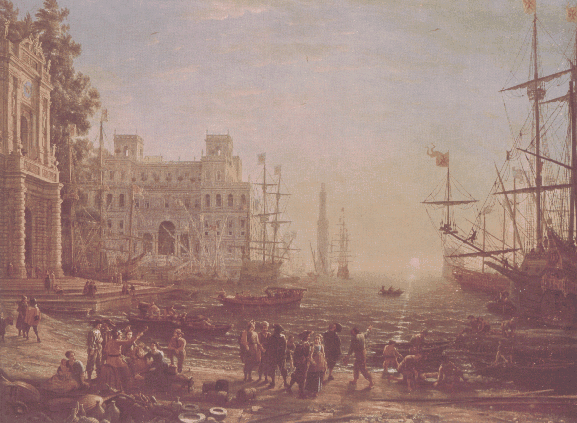 But Odysseus
meanwhile drew near to Chryse conveying the sacred hecatomb.
These when they were inside the many-hollowed harbour
took down and gathered together the sails and stowed them in the black ship,
let down mast by the forestays, and settled it into the mast crutch
easily, and rowed her in with oars to the mooring,
They threw over the anchor stones and made fast the stern cables
and themselves stepped out on to the break of the sea beach,
and led forth the hecatomb to the archer Apollo,
and Chryseis herself stepped forth from the sea-going vessel.
Odysseus of the many designs guided her to the altar
and left her in her father's arms and spoke a word to him:
"Chryses, I was sent here by the lord of men Agamemnon
to lead back your daughter and accomplish a sacred hecatomb
to Apollo on behalf of the Danaans, that we may propitiate
the lord who has heaped unhappiness and tears on the Argives."

---
Other scenes


The muses inspire the poet
Athena intervenes
The heralds lead Briseis away to Agamemnon
Thetis pleads with Zeus
Zeus grants Thetis' request
The gods feast on Olympos
Aphrodite brings Paris to Helen (from Book III)
The embassy to Achilleus (from Book IX)
The death of Hektor (from Book XXII)
Priam supplicates Achilleus for Hektor's body (from Book XXIV)


Return to the main "Homer Tonight!" page.

To schedule a performance of Homer Tonight! for your school or club, email me at: homertonight@hotmail.com
Or call: 336-854-0743


Love Homer, The Iliad, Dr. Bob? Join the crowd:
. . . and counting . . .